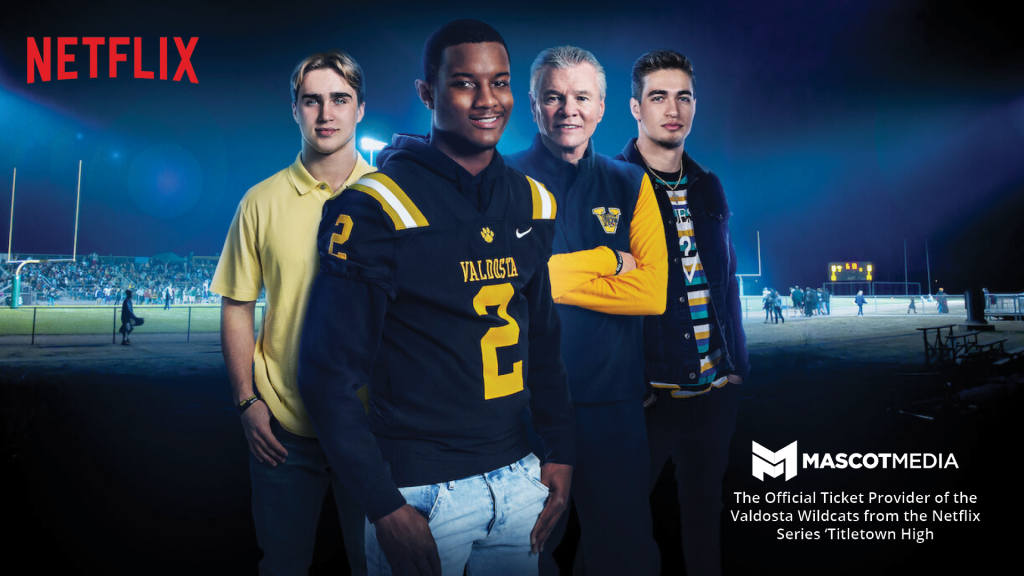 Have you watched the new series on Netflix, Titletown High?
It's an 8-episode series following a Georgia town where football is life and we couldn't be prouder to be a partner of the Valdosta Wildcats, the winningest team in high school football.
Watching the show, you see just how much tradition and community mean to the Wildcat program and how much the program means to the community. One of our favorite lines from the show is when a business owner jokes that "if you want to get away with a crime, do it on Friday because everyone is at the game."
It is that type of commitment to a program that drives everything we do at Mascot Media.
From the Warner Robbins game tickets that you see in episode one, the special rivalry tickets we do for the Colquitt County game, the schedule posters hanging throughout the community, to the websites, custom apps, and broadcasting platform that can showcase your football program museum, facilities, and athletes, Mascot Media is dedicated to ensuring that your program has the tools and opportunities to build your brand and legacy, connect to your community, and propel your athletes and program to new levels.

More than that, we help schools highlight their local sponsors and bring in the much-needed monetary support that comes from that. There are advertising opportunities on the tickets, app, website, as well as in the broadcasts themselves.
Another one of our partner schools had a 627% increase in revenue when they started offering advertising opportunities for their local sponsors on their app and website. They also created a broadcast curriculum that allows their students to gain credit and experience that will serve them in college and beyond. Check out their case study here.

There is a specific feeling that comes from being at a high school football game and a certain romance that exists between the fans and players. High school sports are the main way that residents of many communities connect. When a football team in a small town wins a championship, it's not just a big deal for the town itself…it's a big deal for their entire region! Best of all, if fans aren't able to attend in person, they can still make the game by watching the live broadcast on the app and website.
What makes high school football so special? It comes down to community and tradition. We are proud to be a part of these traditions by providing tickets, posters, apps, websites, and more to schools across the country.
Tradition. Community. High School Football.
To learn more about how Mascot Media can partner with your school to highlight your community and traditions, click the link below.