The Impact of Sponsorship
on High School Athletics
Sponsoring high school athletics offers a multitude of benefits, both for the schools and the supporting businesses.
For schools, sponsorship can provide much-needed funding for equipment and facilities, as well as support for programs that may not be able to sustain themselves through ticket sales and fundraising alone. For businesses, sponsorship offers the opportunity to give back to their community and support the development of young athletes.
Mascot Media has helped connect schools and businesses across the country to provide mission-critical products such as tickets and collegiate style athletic apps/websites for over 20 years. These products provide a platform for businesses to gain more exposure to the high school sports community, while also generating revenue for athletic programs.
For Bob Morey's Auto Body, a family-run automotive collision and repair business in Bentonville, Arkansas, sponsoring their local high school's athletic program has been a rewarding experience. The family-run business specializes in automotive collision and repair and pride themselves in providing top-quality service to their customers while being a dedicated supporter of Bentonville Public Schools (BPS) to support student athletes and the wider community.


The Beginning of a 20+ Year Partnership
The partnership between Bob Morey's Auto Body and BPS began as a way for the company to support the district's athletic programs and student athletes. Initially, the Moreys were simply fans of the Tigers, traveling to games and cheering on the team from the sidelines.
However, in 2002, they were asked to join the athletic booster club and quickly realized the need for sponsorships to support the district's sports programs.
Since then, the partnership has evolved and grown, with Bob Morey's Auto Body taking on a more active role in their support. The business has provided golf carts and a trailer for hauling equipment, allowing the team to take more on the road for away games. As Bob Morey explained, "it is all about the kids as far as we're concerned."
Evolution to a Digital Sponsorship
In recent years, Bob Morey's Auto Body has become a Presenting Sponsor for the Bentonville School District. Their name and logo appear on the district's Mascot Media athletics app and website, as well as in video commercials on live-streams and banner ads throughout the digital platform.
Scott Passmore, the Athletic Director for Bentonville Public Schools, says that their app and website has a large following and is an important part of their program because their "fan base expects to be able to watch [their] games" on the platform, giving their sponsors guaranteed exposure to the community.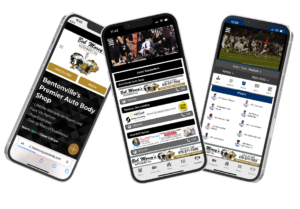 For Amber Morey, being an alumnus of Bentonville High School and seeing her business's name and banner ad on the school's app and website is a source of pride because it's more than just an advertising opportunity. It's about supporting the students. "It's an easy partnership because we feel like it's really important for those kids to have a group to be involved in. We consider our marketing dollars spent at Bentonville more of a donation than anything because we want to invest back in those kids."
Sponsorship from businesses like Bob Morey's Auto Body is essential for the success of high school athletic programs. Not only does it provide much-needed funding for equipment and facilities, but it also helps to build a stronger connection between the school and the community.
In Bentonville, the partnership between Bob Morey's Auto Body and the school district has been a win-win for both parties. "Every year it seems like it's growing a little bit more," says Bob Morey, "and it's helped my business grow with the advertisement, helps the kids, and does more for the school district."
Visit Bentonville Public Schools' Athletic Website